Essence of Reiki
Life Changing Seminars, Coaching Programme, Powerful Mind & Body Balancing Sessions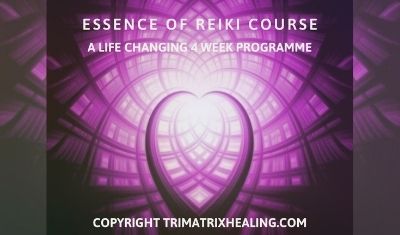 "Essence of Reiki™" is a unique and powerful course that brings profound changes in the mind, body and spirit. It is different in many ways and is not a subset of Reiki. Over a four week period, each participant begins an inward journey that awakens an understanding of the essence of Reiki energy. The purpose of the Essence of Reiki™ course is to live in deep self-awareness and experience the healing of mind, body, and soul.
Since this course takes one to the core of Reiki and its true meaning; its purpose is to form a base for each participant to experience a constant state of goodness that they can then share this world with others.
More so, the "Essence of Reiki™" course has the gentle and beautiful energy that awakens a connection to the inner self like no other.
What they say about Essence of Reiki™ Course
A massive thank you!

After the Reiki session I had with you, my mum (who had no idea I had a session) said there was a calm aura around me and she said it made her feel calm and peaceful. She has been so stressed out lately so I was very happy that the Reiki had also extended onto her.

As if that wasn't enough, as of recently my female cat who is very sensitive has been avoiding me for the last few months because she can't cope with my stressed out energy and it is as if she absorbs it. After your session she came up to me cuddled me and slept cuddling me all night which says a lot.

On a different note, I am also amazed at how powerful the reflexology sessions have been, you correctly identified illesses without me having told you and I am starting to regaining my strength and can see a light at the end of the tunnel first the first time in a very long time.

I was lucky enough to find you and can not recommend you enough and I only wish other people who are suffering can be aware of your work and how much you could also help improve them on a spiritual, physical and even psychological level.
Before I met you I was struggling with depression and panic attacks and had trouble concentrating. I was inexpressive and I was scared to talk to people for the longest time. The first sessions were enough to make my life do a 180 degree turn. You healed me and filled me with hope and light, which made me believe in myself again. I had changed so much that people around me started commenting that I appeared as though I had everything and was above all things.

The reiki sessions were my favourite part because I learned how to accept, love and heal myself. I noticed that the lack of energy, the moodiness and my dissatisfaction with the world were just reflecting the innermost part of my psyche - the feeling of never being good enough. I have come a long way - now the world around seems bright and full of wonderful people.

What I appreciate the most was how caring you were throughout the whole process of bettering myself and how you always answered my questions without any judgement, reassuring me whenever I was feeling down. Your words were a real eye opener and helped me pull through all difficulties I encountered on the way. From the bottom of my heart i thank you.
Those who have participated in this course have seen positive changes in all aspects of their lives. You can read about the personal experiences that people down below and more by clicking here.
Course Dates:
In English: Saturday 22/06/2018 10:00am
Cost:
£200 payable in one go or 4 weekly instalments of £50 via Paypal or Bank Transfer
Email:
Click here to fill the contact form
To book your place please fill in the form by clicking here.